Diabetic Foot Care – Prevention is better than cure
FeetMatters is experienced in dealing with foot complications that can arise as a result of diabetes.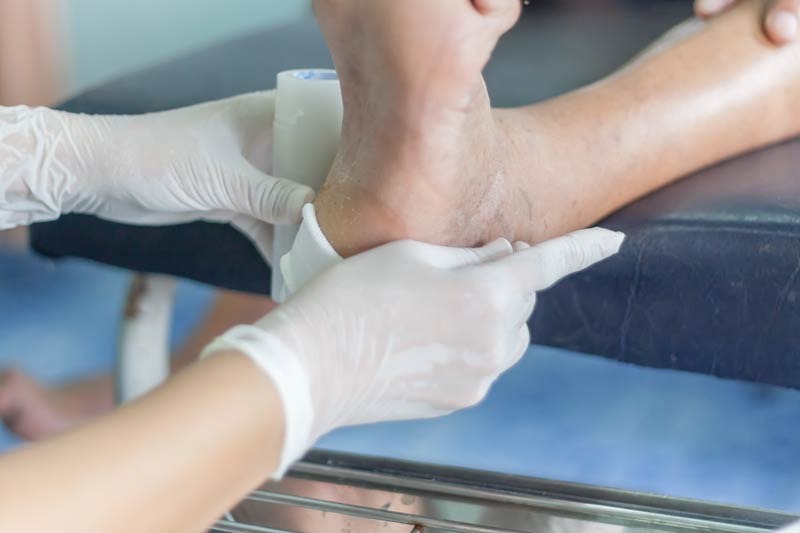 The NHS recommends that people with diabetes should visit a podiatrist at least once a year. During routine appointments at our Dartford Foot Clinic, we help to keep an eye on the general condition of the foot from a diabetic point of view while performing the routine foot care. This includes monitoring blood flow to the foot and any related loss of feeling (peripheral neuropathy).
Due to the reduced circulation and sensation in the feet that can occur with both Type 1 and Type 2 diabetes it is very important to have your feet checked regularly by a podiatrist.
If you find it at all difficult to cut your own toenails or look after your feet in general you should not attempt to. Trying to, could easily lead to serious preventable problems. For example, a cut foot or an ingrowing nail.
As a diabetic your main goal is to prevent skin/tissue breakdown and the chance of it developing into an ulcer. Ulcers can take a long time to heal and in worse case scenarios lead to amputations. However, with regular visual and physical checks on the areas, good diabetes management and regular routine foot care, ulcers can generally be avoided.
Annual foot care reviews for patients with diabetes
We offer diabetic annual foot care reviews that can be sent to your GP once completed. A diabetic will already know that it is very important to keep an eye on your feet, including any changes over time. During an annual review, we ask patients lots of questions about their feet. We discuss how they manage their diabetes and ask questions that will include:
Have you had any problems in the past 12 months or noticed changes like new cuts, blisters, broken skin or corns?
Have you had any pain or discomfort?
Have you ever had any foot problems or wounds?
How often do you check your feet at home?
When walking, do you have any cramping pains?
More generally, how are you getting on with managing your diabetes?
As well as a full circulatory and sensory assessment of the feet
Diabetic foot care at home
For any diabetic patients not able to travel to our Dartford clinic, we offer home visits. Being house bound is not a valid reason to neglect your feet. Serious problems can still arise even if you are not getting out as much as you would like. Please contact us to arrange a home visit.